THE SEALING IN THE VIDEO AND THE TRADE FAIR EXHIBIT FOR THE SCHUCK SEALING FLANGE
We like to use acrylic glass cubes for trade fairs and exhibitions to enable a view into the wall. In this way, we can clearly show the installation situation of our house entries with accessories in the wall and clearly show what cannot be seen in practice.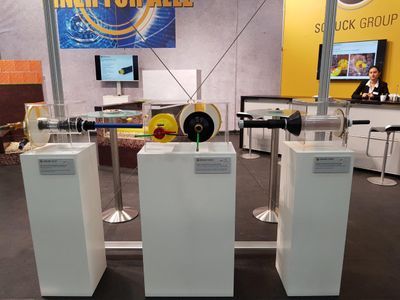 One for all. The sealing flange 18533 can be used universally for every type of building entry.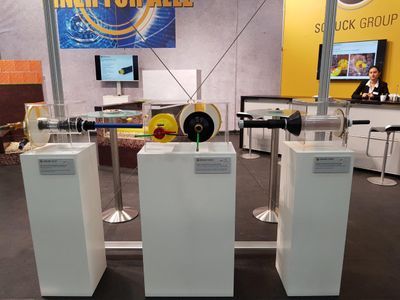 At trade fairs, we clearly show the various installation situations with corresponding exhibits.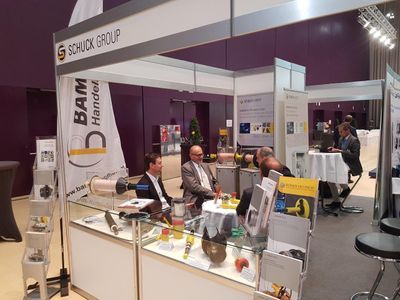 Clear illustration and competent advice from Schuck Group.
THIS IS HOW A TRADE FAIR EXHIBIT IS CREATED
Depending on the focus of the exhibit, it is simply pre-assembled with accessories or encapsulated with Schuck Beto-Fix Plus . For example, we can present many advantages of our system on a sealing exhibit, such as the continuous sealing and fastening across the entire wall thickness without defects, the easy control of the filling based on the level in the filling funnel or the universal application possibilities of our building entries regardless of the wall structure or the design of the opening .
BUILDING SEALING ACCORDING TO DIN18533
The exhibit is one of a gas house entry HSP , which is also installed with two parallel fibre cables . For the building sealing according to DIN18533, the sealing is done by our sealing flange 18533 , which integrates the building entry and the Schuck Pipes securely into the existing building seal and seals against pressing water up to 1 bar (W2.1-E). Sealing with Schuck Beto-Fix Plus ensures an optimal connection between the building entry and the building as well as the Schuck Pipes .
Even if we have practically laboratory conditions here, we know from practice that the installation works just as reliably even in the most difficult construction site situations and that maximum safety is achieved.
PHOTO SERIES FOR SEALING WITH BETO-FIX PLUS