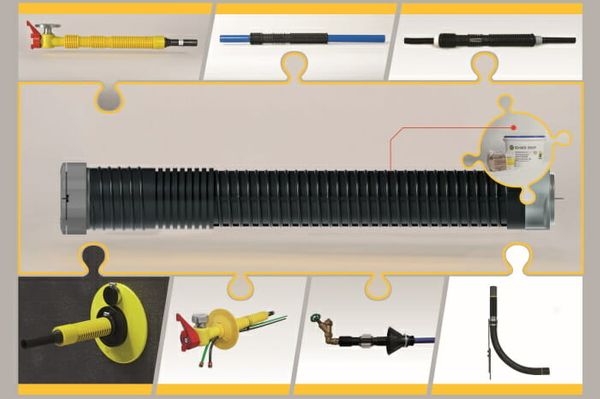 A NEW APPROACH TO HOUSE ENTRIES
The Schuck modular house entry MHP is the optimal solution for wall penetrations of power cables and water pipes.
Multifunctional for power and water lines Ø 19 - 63.5 mm
Sealing of supply lines in buildings.
Suitable for power and water lines.
Rigid version for buildings with basement.
Flexible version for buildings without basement.
Ideal for wet installation with Schuck Beto-Fix Plus.
Integration into building sealing by means of sealing flange 18533.
Can be combined with fibre optic (FTTX) as fibre optic version.
Trenchless house connection possible in combination with the Schuck sealing shield.
Multifunctional - The modular house entry MHP in detail
Its well-thought-out design makes the MHP modular house entry flexible in use. However, it also relies on proven components and accessories from SCHUCK.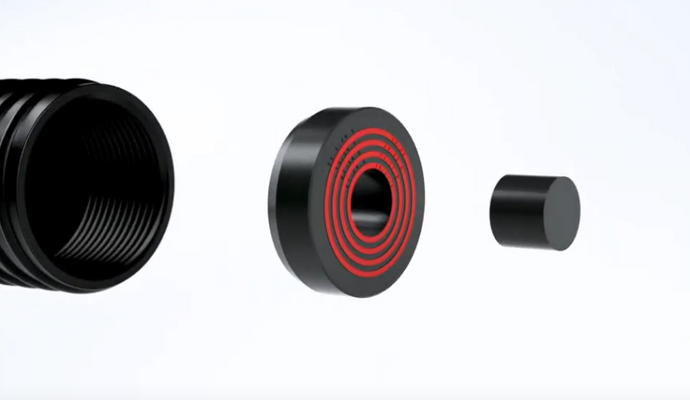 VERSATILE
For power and water pipes Ø 19 - 63.5 mm.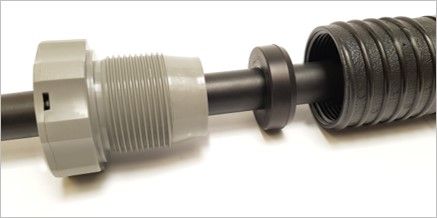 SEAL
Thanks to infinitely variable sealing system - can be mounted without tools. Without torque specification.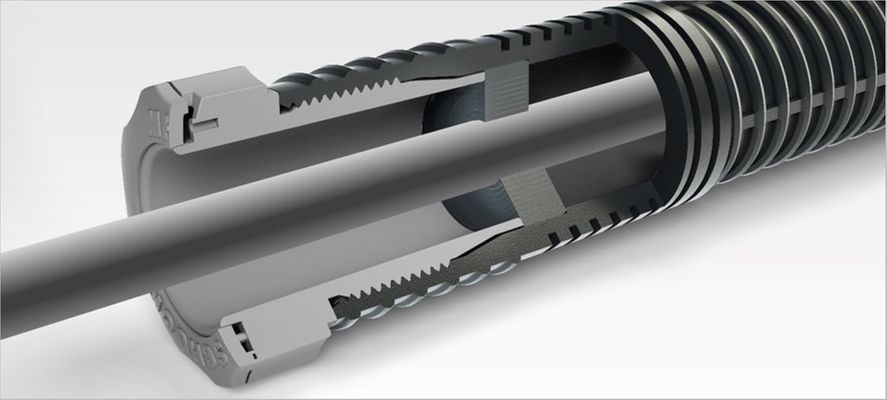 MAINTENANCE-FRIENDLY
Safe installation. If the worst comes to the worst: cables can be replaced later.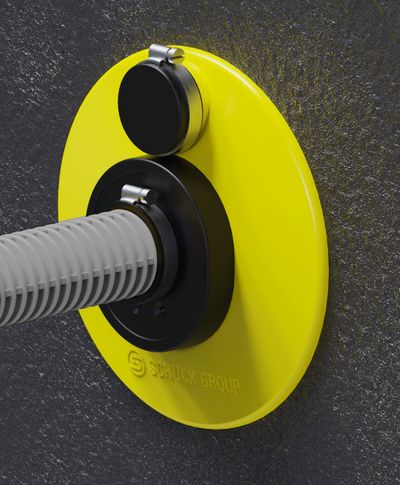 Standard-Compliant
Building sealing according to DIN possible by means of combination with sealing flange 18533.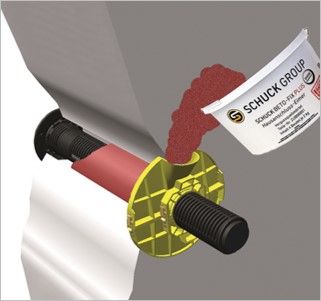 IDEAL FOR WET INSTALLATION
Using the Schuck Beto-Fix Plus swelling mortar set.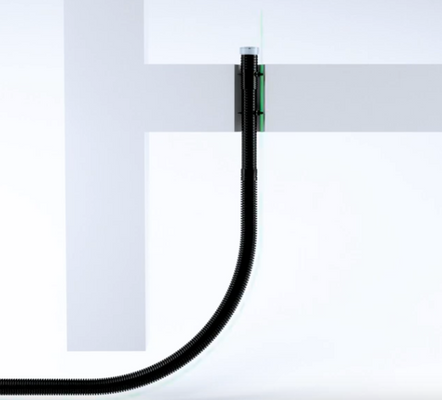 FLEXIBLE
Version for buildings without basement with factory-welded and tested casing protection pipe according to DVGW G459-1 and VP601.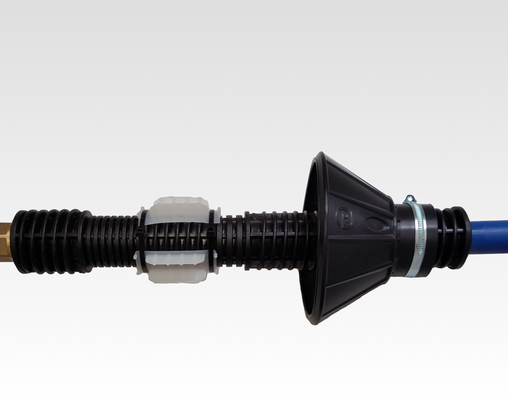 TRENCHLESS
House connection without trench in connection with the Schuck sealing screen.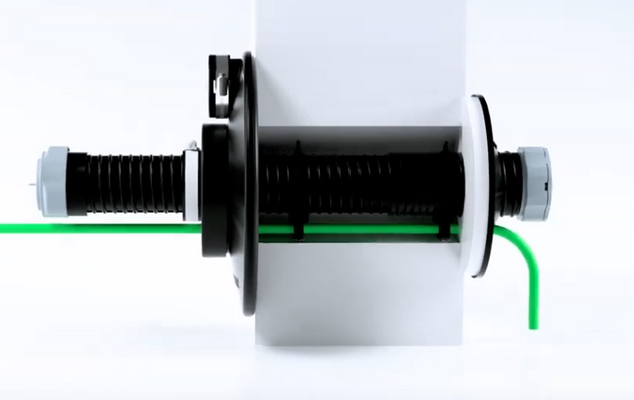 Fiber Optics
The simultaneous laying of SCHUCK Pipes (FTTX) enables unproblematic connection to the fibre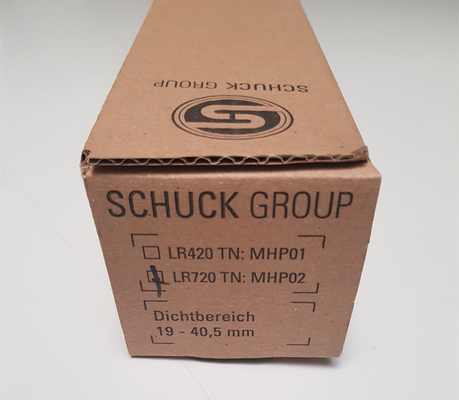 MULTI-TALENTED
Low stock levels due to few variants.
THE MODULAR HOUSE ENTRY IN VIDEO
The coordinated system of round threaded sheath and flexible accessories enables fast, safe and standard-compliant installation in any situation. Explained in detail in the following video!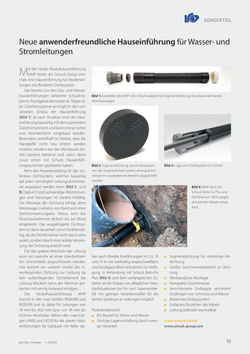 WHAT DOES THE TRADE PRESS SAY?
"New user-friendly house entry for water and power lines".
Read the technical article on the new MHP in the IRO special section of GWF issue 1-2 / 2022 here.
Or click to download (pdf) - [German Version of Press Release available]
[German Press Release analogous translated into English by Schuck Group]
New user-friendly house entry for water and power lines
With the new MHP modular house entry, the Schuck Group offers the first house entry for media lines with a flexible sealing system.
The Schuck-typical round threaded jacket, already known from the gas and water house entries, as a carrier for all accessory systems, enables the universal installation of the house entry (Fig. 1). Depending on the situation, the house entry is equipped with the appropriate accessories on site and can always be installed safely and in compliance with the standard. A particular advantage here is that the manual operations do not have to be learned again but are already well known to the fitters if they have previously worked with Schuck house entry systems.
The core of the new development is the jointless sealing system, which can be adapted to any required pipe diameter on site (Fig. 2 and 3). This eliminates the need for time-consuming coordination and planning in advance. The seal is installed without tools, effortlessly by hand and without torque specifications. For this purpose, the screw-in element is simply screwed in to the block. The ingenious sealing system is then permanently and reliably functional, as the sealing function is achieved not by axial but by radial compression of the seal.
An empty pipe can be connected to a standardized interface for later replacement of the pipe. This is where another advantage of the internal seal comes into play: as there is no external sealing element blocking the pipe, the change can be carried out without any effort.
The modular house entry MHP comes in two sizes RG66/60 and RG95/90 and can be used for cables from 19mm to 40.5mm or from 39mm to 63.5mm. In addition to the two lengths LR420 and LR720 for rigid house entries for buildings with basements, flexible versions are also available in 3, 6, 10 and 15 m with a factory-welded and pressure-tested protective pipe. In conjunction with Schuck Beto-Fix Plus (Fig. 4) and the extensive accessories, installation is possible from everyday standard situations to super special cases with a small number of variants for a wide range of pipes.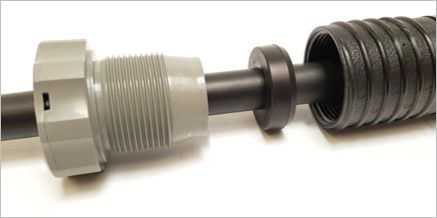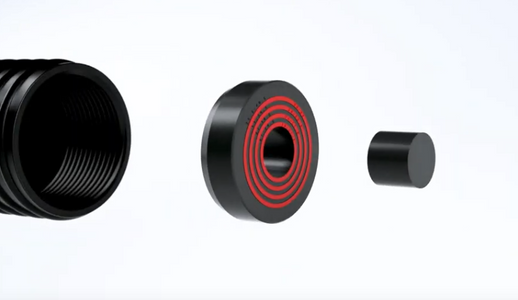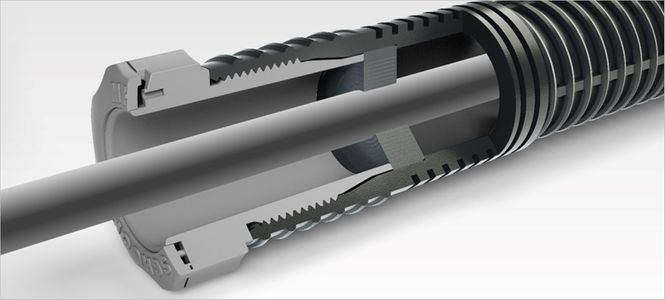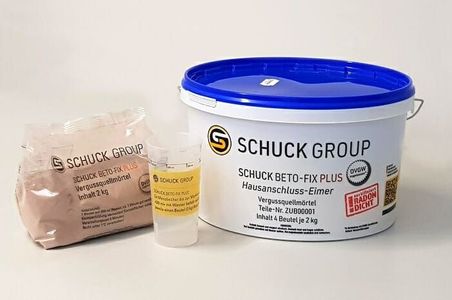 Figure 1: Individual parts of the MHP (left to right): screw-in part with segment seal, round threaded jacket, end cap.
Figure 2: Segment seal, by removing the segments, any cable diameter in the specified range can be sealed.
Figure 3: Position of the sealing system in cross-section
Figure 4: MHP is installed with Schuck Beto-Fix Plus and sealing flange 18533 against pressing water.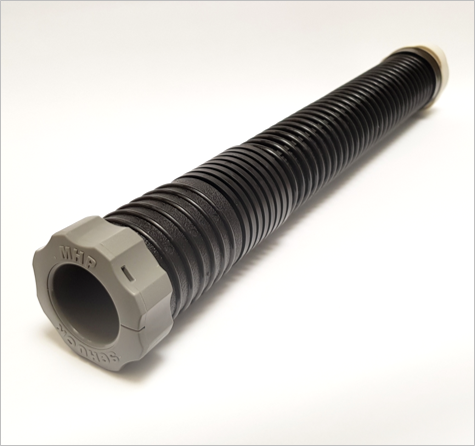 TO THE POINT - THE ADVANTAGES OF THE MODULAR HOUSE ENTRY SYSTEM MHP
One component for electricity and water.
Low stock levels due to fewer variants.
Segment seal for stepless sealing
Large diameter range.
Tool-free assembly.
Tight without tools - hand-tight screwing in is sufficient for secure sealing.
Compact and sophisticated design.
Sealed end cap prevents ingress of dirt and rainwater.
Well-known installation system, self-explanatory.
Simple & safe retraction of the pipe.
Easy to maintain - cables can be replaced at a later date.
Download & Bonus material: