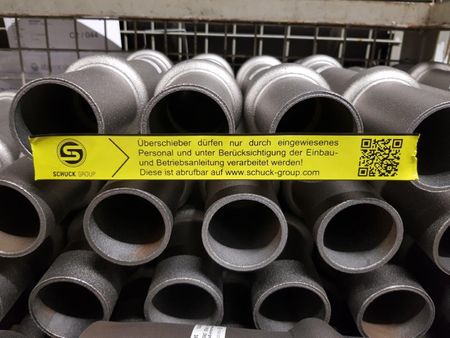 MORE Safety FOR OUR USERS IN PIPELINE CONSTRUCTION
As a well-known manufacturer of sleeve connectors, the Schuck Group bears a special responsibility, especially when it comes to occupational and operational safety.
In close cooperation with the BG ETEM trade association, Schuck has developed a catalogue of measures to create greater safety awareness among users of Schuck SMU Slip-Ons Connectors.
Find out here which 3 measures ensure better occupational safety on the construction site and significantly minimize the risk of accidents.

We have completely revised our installation instructions for SMU in close cooperation with BG ETEM.
In addition to the previous content, which has been updated and adapted, the processing of the SMH sleeve connector has now also been included in the instructions.
To give users a better understanding of the forces that arise when pressure is applied, tables of forces have been included as examples, on the one hand, and sketches with the expected direction of force on the other.
A distinction must be made between forces on the pipe (the pipe is pushed out of the slide) and the forces on the slide itself (slide moves on the pipe). These forces can correspond to several tons of weight. See pages 2-4 to 2-6 in the current manual (German).
The force tables were drawn up by Schuck, the sketches by Hütz and Baumgarten (manufacturers of bladder setting devices).

This clearly draws the user's attention to the instructions described above.
To this end, we have started a far-reaching information campaign in which we attach a tape to each slide connector cover.
The tape is attached so clearly that it cannot be overlooked. Schuck thereby reduces the risk of errors. The QR code leads directly to the download of the instructions (German) when you scan it with a smartphone.
In a technical report on the subject of "Pressure on the line" (page 16 ff) prepared jointly with the BG ETEM, we worked out a comprehensive description of the problem and the appropriate solution approaches using tables and sample calculations.
Every Schuck sleeve connector is provided with a notice for correct and safe installation prior to delivery.
As the Schuck Group, we are very proud to be able to claim that the term "Schuck" has established itself as a brand name for the products of the Schuck sleeve connector. It is not uncommon on a construction site to simply say, instead of the sleeve slide: "Hand me the Schuck!"