H2ready - The Fully Welded Schuck Ball Valve
IN HYDROGEN DESIGN
Together with the SGS-TÜVSaar and the DBI - Gastechnologische Institut GmbH Freiberg, Schuck checked their product range of ball valve type G (fully welded pipeline valve) for its suitability in hydrogen networks in a test procedure especially developed for the operating medium hydrogen. Operating conditions up to a volume fraction of 100% hydrogen were simulated.
The test process in detail
The tests included extensive tightness tests both for internal tightness and for emissions into the atmosphere. As part of the test cycles, the fittings were loaded with test pressures of 0.5 bar up to 210 bar and any leaks were checked using a mass spectrometer. All fittings were able to exceed the high quality requirements and guarantee tightness, even after long-term use.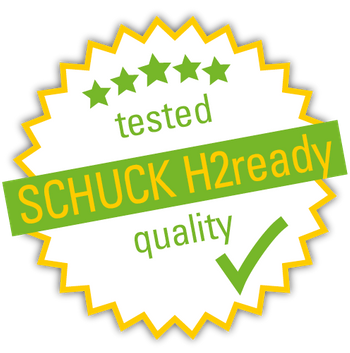 The SCHUCK HYDROGEN DESIGN also includes a selection of materials tailored to the operating medium hydrogen. The selection and implementation of the materials in the construction design are based on the latest research and test results. Among other things, materials for the highly stressed springs were specially designed for operation in a hydrogen atmosphere (up to 100% vol.) And the suitability of these was demonstrated in corresponding test series.
With the SCHUCK HYDROGEN DESIGN, the supply networks of the future can be equipped today. We would be happy to support you in your hydrogen strategy, both in the integration of new products and in the evaluation of any existing products (e.g. existing valves).